€ 95,59
Brez DDV: € 79,00
Opis artikla
The Z-Extender is a Z-wave compliant Z-wave to IR extender. It works with any Z-wave controller or gateway, translating Z-wave's Simple AV commands to IR control codes. It has an integrated IR control code library to simplify setup and configuration procedures. It also supports Remotec's Universal IR Descriptor (UIRD) format allowing advanced users and custom installers to construct their own IR control code and program into the Extende
This device is a 100% interoperable Z-Wave to IR extender. It transmits IR control code with a wide range including the Temperature, and supports Z-wave compliant Home Gateways and Portable Controllers.
Technical Features:
Fully complaint to Z-Wave command class
Built-in AC IR code library
Able to feedback the room temperature
Build-in 5 direction IR emitters (hemispherical coverage)
3.5mm jack for external wired IR emitter (optional)
Transmit IR control code with a wide range of carrier frequency (15 to 455kHz)
Programmable power level (LOW or HIGH) for external IR emitter to aviod saturation of IR receivers
Z-Wave-Frequency: 868.4MHz
Power Source: USB mini-B,5V DC Jack, or 3xAAA batteries
Dismountable battery
Box dimension: Extender unit: 70mm (diameter) x 18mm (thickness)
Battery Box: 70mm (diameter) x 15.5mm (thickness)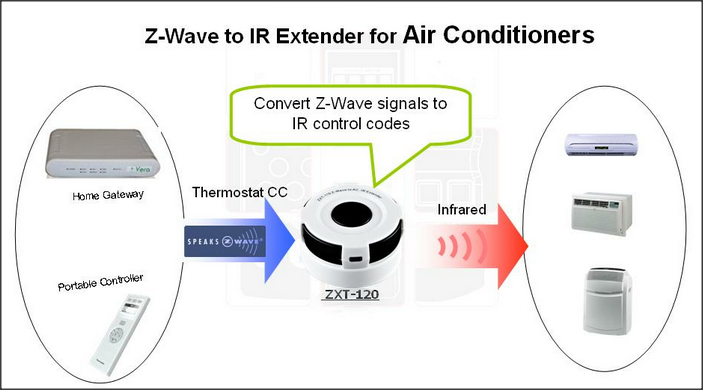 Karakteristike
Glavni krmilnik Združljivost
eeDomus+
Full Compatible
Fibaro Home Center 2 v4.160
Full Compatible
Fibaro Home Center Lite v.4.160
Not Tested
Vera Edge / Plus / Secure
Full Compatible
Zipabox/Zipaminicro/ZipaTile
Not Tested
Piper / Piper NV (v.1.7.1)
Not Tested
Indigo
Not Tested
jeedom
Not Tested
Domoticz
Not Tested
ZiHome
Not Tested
Vera 3
Not Tested
Vera Lite
Not Tested
Ocene - mnenja (3)
Napišite mnenje
Opomba: Uporaba HTML kode ni dovoljena!
Nadaljuj